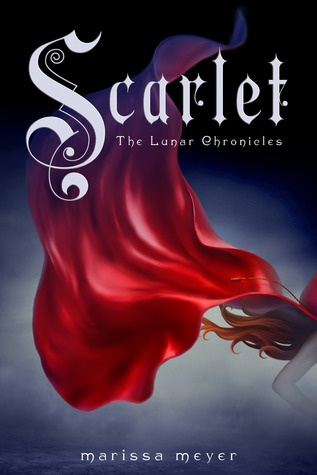 Scarlet (The Lunar Chronicles Book 2)
by Marissa Meyer
Published: February 5th 2013 by Feiwel and Friends, 452 pages
Description:
Cinder, the cyborg mechanic, returns in the second thrilling installment of the bestselling Lunar Chronicles. She's trying to break out of prison--even though if she succeeds, she'll be the Commonwealth's most wanted fugitive. Halfway around the world, Scarlet Benoit's grandmother is missing. It turns out there are many things Scarlet doesn't know about her grandmother or the grave danger she has lived in her whole life. When Scarlet encounters Wolf, a street fighter who may have information as to her grandmother's whereabouts, she is loath to trust this stranger, but is inexplicably drawn to him, and he to her. As Scarlet and Wolf unravel one mystery, they encounter another when they meet Cinder. Now, all of them must stay one step ahead of the vicious Lunar Queen Levana, who will do anything for the handsome Prince Kai to become her husband, her king, her prisoner.
My Review: I've been trying to space this series out, since the 4th book doesn't come out for a few more months. I absolutely love it! This book picks up right where Cinder left off. Cinder is trying to escape from prison and stumbles upon some help--Captain Thorne. Thorne isn't really a captain, but he's certainly full of himself. He reminds me a lot of Han Solo--lovable, yet cocky; daring and brave, yet clueless. The story also picks up the storyline of Scarlet, a girl who is searching for her missing grandmother. Scarlet meets up with a handsome street fighter, Wolf, and together they embark on an adventure to find her grandmother. The reader goes back and forth between these two stories, while also getting an occasional glimpse of Kai and the situation in the palace.
Cinder is so resourceful. She's obviously fictional, but portrayed in a way that is very relate-able. I often wondered how I would handle things if I were in her place. I loved Scarlet--she's a very tough girl, yet very forgiving and tenderhearted.
I loved seeing these beloved characters again and getting to know them better, all while getting to know new characters. I thought it was done in a way that wasn't overwhelming. The story progressed nicely and the characters developed in a great way--some were surprising and others were steady and consistent. I loved every minute of watching things unfold and can't wait for more!
Content: a very few mild profanities; moderate violence, blood, death, etc; mild romance/kissing. I would consider it clean, but not for a young reader (think PG-13 movie-type violence).
Amazon * B&N
About the Author:
Marissa Meyer lives near Seattle with her husband and their three cats. She's a fan of most things geeky (Sailor Moon, Firefly, color-coordinating her bookshelf...) and will take any excuse to put on a costume. She may or may not be a cyborg.
Follow her blog or sign up for her newsletter at http://www.marissam