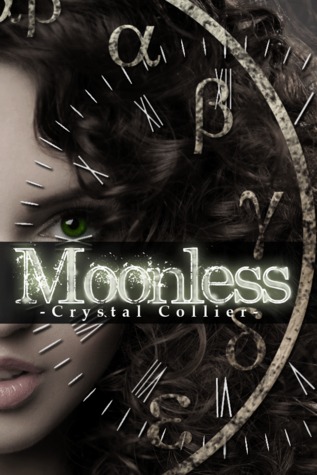 Moonless (Maiden of Time Book 1)
by Crystal Collier
Published November 13th 2013 by Raybourne Publishing, 309 pages
Source: I received a copy from the author in exchange for an honest review
Description:
MOONLESS is Jane Eyre meets Supernatural.

In the English society of 1768 where women are bred to marry, unattractive Alexia, just sixteen, believes she will end up alone. But on the county doorstep of a neighbor's estate, she meets a man straight out of her nightmares, one whose blue eyes threaten to consume her whole world—especially later when she discovers him standing over her murdered host in the middle of the night.

Among the many things to change for her that evening are: her physical appearance—from ghastly to breathtaking, an epidemic of night terrors predicting the future, and the blue-eyed man's unexpected infusion into her life. Not only do his appearances precede tragedies, but they are echoed by the arrival of ravenous, black-robed wraiths on moonless nights.

Unable to decide whether he is one of these monsters or protecting her from them, she uncovers what her father has been concealing: truths about her own identity, about the blue-eyed man, and about love. After an attack close to home, Alexia realizes she cannot keep one foot in her old life and one in this new world. To protect her family she must either be sold into a loveless marriage, or escape with the man of her dreams and risk becoming one of the Soulless.
My Review:
I love Jane Eyre and was excited to read something with that feel to it. I spent the first third of the book wavering between being fascinated, confused, and even a little disgusted.
The story opens with a very unhappy young woman, Alexia, finding herself witnessing terrible events in her nightmares--events that come true. There were a lot of deaths and murders and it was a little gruesome to read and think about. It was creepy, dark, and had a definite undertone that sinister, mysterious things were going on. I had no idea where things were heading and I was constantly trying to guess. I thought it was a good book to read in October, with Halloween coming up.
The second third of the book really picked up for me. Alexia

uncovers secrets about herself and her family that change everything as she's known it and she finds true love. It was hard to see her debating her choices, weighing out what is best--to save her family or herself; to find happiness and love or to be miserable and unselfish. I enjoyed the determination she had to truly discover the best course to follow.
I loved her blue-eyed stranger, Kiren. There are so many mysteries and secrets surrounding him and I loved finding out more about him right along with Alexia.
The last third of the book turned violent and intense again. I know it all had to come to a head, but it was sad to see the aftermath of the fight and to be on an emotional roller coaster. If you like fantasy, action, and romance, this is a book for you!
Content:
language: a handful of mild curse words
violence: deaths, some with moderate description; moderate fighting
romance: mild-moderate kissing; talk of an illegitimate child resulting from an affair
Amazon * Barnes & Noble * Goodreads
Coming Soon...
Alexia manipulated time to save the man of her dreams, and lost her best friend to red-eyed wraiths. Still grieving, she struggles to reconcile her loss with what was gained: her impending marriage. But when her wedding is destroyed by the Soulless—who then steal the only protection her people have—she's forced to unleash her true power.

And risk losing everything.
Expected publication: October 13th 2014 by Raybourne Publishing
About the Author: