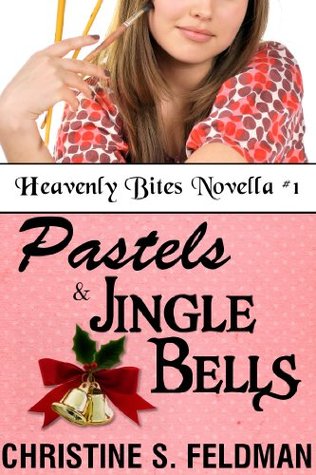 Pastels and Jingle Bells (Heavenly Bites Novella #1) (Heavenly Bites Novellas)
by Christine S. Feldman
Published October 31st 2013
Source: I received a copy from the author in exchange for an honest review
Description: Trish Ackerly never expected to cross paths with Ian Rafferty again, but when she spots the former bully of her childhood years through her bakery window, she thinks she may just have been given the best Christmas gift ever: the opportunity to finally give Ian the comeuppance he deserves.

But clearly she does not have a knack for this whole revenge thing, because before she can make good on her plans, Trish gets inadvertently drawn into Ian's life in an unexpected way that lets her see just how different the man is from the boy he used to be. In fact, much to her astonishment, she actually starts to like the guy.

A lot.

Trouble is, Ian doesn't know who she really is, and explaining it to him is going to be a little difficult now—which is bad news, because Trish is starting to realize that all she really wants for Christmas this year…is Ian.

My Review: It's getting to be about the time of the year when Christmas stories come out. I was excited to read this one because I really do love Christmas stories--especially romantic ones.
Trish had a difficult childhood, all because of bully, Ian. Years later, when their paths meet again, she has the chance for revenge, but can she do it?
Trish has really done a lot for herself to get to the point she's at. She's happy and successful and even though she holds a grudge, she doesn't let that get in the way of her being a kind person. I think her experiences really shaped who she grew up to be. Ian's past has created the man he grew up to be as well. I love the kind of father he is and I love how sweet he is.
I think a lot of people can relate to this story. Kids do dumb things, especially when they don't know how to express their feelings. I loved the heartwarming message that was given in this story.
Content: short, sweet, and clean!

About the Author: