by Anna Adams, Anna J. Stewart, & Melinda Curtis
Clean Contemporary Romance
Paperback & Ebook, 202 pages
November 1st 2014 by Harlequin Heartwarming
Discover the magic of Christmas Town, Maine!
Three lonely strangers come to Christmas Town, Maine, and find love with three Banning siblings in the town that celebrates the holidays by decorating its square with lights and ribbons and a holiday pageant on Christmas Eve. Tradition has it that a kiss beneath the mistletoe that night means marriage for the couple in the new year.
The Christmas Gift by Anna Adams:
Jack Banning promised to support the mother of his unborn child. But she doesn't need money, she only needs him.
The Christmas Wish by Anna J. Stewart:
Callie Banning's student has declared war on Christmas, so it's up to her to help the little girl and her widowed father believe again.
The Christmas Date by Melinda Curtis:
Gina Vernay is about to meet her online mystery date and she's in for the surprise of a lifetime!
Amazon - Barnes & Noble - Harlequin - iTunes
My Review:
What a fun story! The reader is taken on a journey through Christmas Town, Maine and we get to see snippets of what makes this town special through the eyes of three different characters.
In The Christmas Gift, Dr. Jack Banning is struggling with some issues, but being a very good Dr and surgeon isn't among them. When he found out he was going to be a father, he ran and wants nothing to do with his unborn baby. Jack is such a strong character and it's hard to imagine him not taking a challenge head on, but, as we find out, he has his reasons. I love Sophie, the mother-to-be. Her patience is amazing, as is her genuine care for those around her. I would have liked to see Jack ease into his feelings, instead of being so hot and cold.
The Christmas Wish is about Jack's sister, Callie, a school teacher. She has a troubled student who is up to mischief at every turn, since this young girl hates Christmas and anything associated with it. Eliza doesn't know how to express herself and Callie is determined to understand why. Meeting with Eliza's father, Dean, proves to be a battle, since there's an attraction. Callie is very creative in her dealings with Eliza and such a sweet woman. Dean does the best he can as a father and is willing to make changes to make things even better. I loved the way the story came together.
Nick Banning is the resident handyman and the brother of Jack and Callie in The Christmas Date. He's working hard to help Gina, a shop owner, make repairs to her store, as well as to her self esteem. Gina has met a man online and just can't quite let her heart follow Nick without giving Football20 a chance. Gina had some pretty big insecurities to deal with. I could understand why she felt that way, yet I wanted her to let it go. I enjoyed watching her blossom. Nick is a man who can do everything, yet he's very humble. I love the way he would build up those around him.
These were fun, clean holiday stories. I only wish the main characters from the other books would have shown up more in other stories.
Content: no language; no violence; clean kissing. Clean!
About the Authors
Anna Adams wrote her first romance in wet sand. The Atlantic Ocean washed it away, but Anna kept going. Her stories are of love, like the proverbial stone in a lake, making ripples that spread and contract and involve. From Iceland to Hawaii, and points in between, Anna and her own hero share with children and family and friends who?ve become family. All this living and loving gives Anna plenty of fodder for stories of love set in real life. Come along and live them with her!
Anna J. Stewart can't remember a time she didn't have a book in her hand or a story in her head and credits her mother never saying no to a book for turning her into a writer. Anna lives in Northern California with an overly attentive cat named Snickers and is happiest when setting her heroes and heroines on their road to happily ever after amidst family, fun and laughter.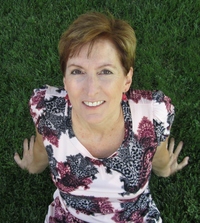 Melinda Curtis grew up on an isolated sheep ranch, where mountain lions had been seen and yet she roamed unaccompanied. Being a rather optimistic, clueless of danger, sort she took to playing "what if" games that led her to become an author. She spends days trying to figure out new ways to say "He made her heart pound." That might sound boring, but the challenge keeps her mentally ahead of her 3 kids and college sweetheart husband.
- Gift Card Prize Pack: $20 Amazon gift card and ebook of Christmas, Actually (open internationally)
- US Prize Pack: Paperback of Christmas, Actually and three Christmas ornaments (US only)
- 3 ebooks of Christmas, Actually (open internationally)
a Rafflecopter giveaway