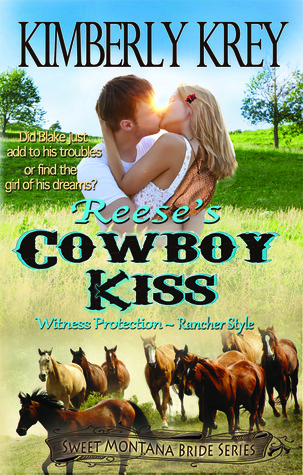 Reese's Cowboy Kiss
(Sweet Montana Bride #1)
by Kimberly Krey
Adult Romance
Paperback, 307 Pages
May 13th 2014 by Candle House Publishing
Blake Emerson has no time to go lookin' for love. He's got a ranch to run, positions to fill, and an ache in his heart from love gone wrong. So when he agrees to harbor a witness to help on the ranch, Blake assumes his first two problems are solved. But he never dreamed his new guest would be a woman. One he was destined to lose his heart to.
With sparks burning hot and danger around the bend, one question lingers in his mind: Has he only added to his list of troubles, or has Blake just found the woman of his dreams?
*While this book is considered clean romance, it contains passionate kissing and a few mild curse words.*
My Review:
Reese is adorable! She is so sweet and naturally happy, that even a scary situation with a stalker doesn't keep her down for long. I loved the way she would interact with Blake and the ranch hands, having fun in the midst of tense times. She's a very likable girl, with her beauty shining through, both inside and out.
Blake is such a traditional man. He's very kind and caring, almost taking his role of protector too seriously, all the in name of being honorable, hard-working, and supportive. He's gruff and ruggedly handsome--I would even be intimidated by him! The battle he fought with himself over his feelings for Reese was very entertaining. Who could resist his charms?
I loved watching the romance blossom and the suspenseful element was fantastic! I was on edge reading through those parts--very romantic and very creepy. The author did a great job in drawing me completely into the story.
This is exactly the kind of story that I love to escape in. I absolutely adore a story that shows the way two people meet and fall in love! I especially love it if the book if filled with tender glaces, smoldering looks, sizzling kisses, and that's all. This book does have some passionate kissing, but everything beyond that is saved for marriage and after that, it fades to black and is left behind closed doors. Perfect!
Content:
a few mild expletives; mild violence (talk of murder, stalking, attempted murder, but none of it is really graphic); passionate kissing.
Other Books in the Sweet Montana Bride Series:
About Kimberly Krey
I'm a writer of contemporary clean romance, a lover of home, family, & friends, & the ultimate hater of laundry.
A few of my favorite things: Diet Coke, Cafe Rio, and novels by Marcia Lynn McClure.
I do not go anywhere without: SoftLips Chapstick and Altoids Smalls.
­ $100 Amazon Gift Card
­ Open Internationally
­ Ends August 10th