A themed book tour through
Prism Book Tours
.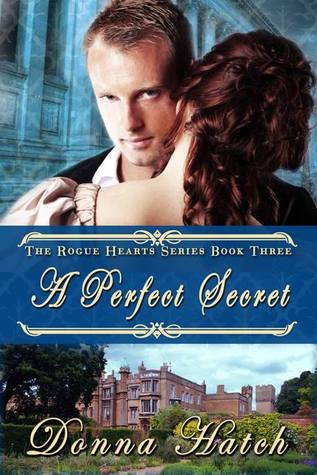 A Perfect Secret
(Rogue Hearts #3)
by Donna Hatch
Adult Historical Romance
Paperback, 348 Pages
December 14 2013

Desperate to protect her father from trial and death, Genevieve breaks off her engagement with Christian Amesbury and marries a blackmailer. After a year of marriage, she flees her husband's violent domination only to have fate bring her back to Christian. Just when she thinks she's started a new life of safety and solitude, her husband tracks her down, stalks her, and threatens everyone she loves.

Still brokenhearted over Genevieve's betrayal a year ago, Christian can't believe she's come back into his life--and worse, that she's done it on the anniversary of his brother's death, a death that haunts him. Though tempted to throw her back into the river where he found her, he can't leave her at the mercy of the terrifying man she married.

When her husband torments Genevieve and puts his family in danger, Christian will do anything to protect those he loves...anything except give Genevieve another chance to break his heart.
Amazon - Barnes & Noble - Book Depository - Smashwords
My Review:
I love the stories about these brothers!! I must admit, I was curious about the brother they always called "Perfectly Perfect Christian." I imagined him to be almost a saint and maybe destined to become a priest. However, I was surprised to learn that there are reasons for him to be the way he is and he's not as perfect as everyone thinks. He's still a great guy, but he's human and humans make mistakes and are often hard on themselves.

I was a taken off guard by the way the story began. Instead of watching the characters (Christian and Genevieve) fall in love, the story begins with them already in love...and then the trials start. I was appalled at the things Jen went through and had to endure, all in her mind's idea of duty and to protect her parents. I was surprised at the feelings the two felt for one another when it wasn't legally possible for them to be together. In a way, it proved to me that things aren't always as they seem. I can look at people and be jealous of their perfect lives or I can be sure that they have their own struggles and trials that aren't physical and outwardly apparent.

I thought the twists and turns in the story were cleverly done. I'm just not a big fan of adultery--or anything close to it, no matter the circumstances.
I wish things could have happened a little sooner so that these feelings didn't seem so wrong. I love a good love story--especially watching the characters fall in love. I was glad to see the progression of their emotions throughout the story. Their relationship kept building upon what they already had.

Content: some violence; some murders and attempted murders; kissing and almost emotional infidelity; nothing is overly descriptive, so I would label it as technically clean.
My passion for writing began at the tender age of 8 and I?ve been hooked ever since. Of course, I also wanted to be an actress and a ballerina, but one out of three isn?t bad, right?
In between caring for six children, (7 counting my husband), my day job, my free lance editing and copy writing, and my many volunteer positions, I manage to carve out time to indulge in my writing obsession. After all, it IS an obsession. My family is more patient and supportive than I deserve.
- Grand Prize:
$20 Amazon gift card and an ebook (INT) or print copy (US Only) of
A Perfect Secret
OR
The Stranger She Married
(winner's choice)
- 5 ebooks
of
A Perfect Secret
- Open Internationally
- Ends July 20th