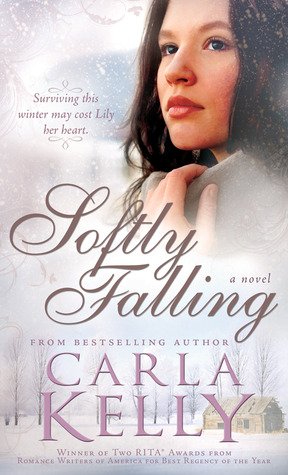 Softly Falling
by Carla Kelly
Published November 11th 2014 by Cedar Fort Publishing & Media
My Source: I received a copy from the publisher in exchange for an honest review
Description:
Beautiful Lily Branson learns that her wayward father has lost his Wyoming cattle ranch in a card game to handsome cowboy Jack Sinclair, no less! When a series of deadly winter storms sets in, Lily and Jack must work together to save the cattle—as well as their hearts.
My Review: Lily has spent her entire life trying to feel like she fits in. Her mother is black and her father is white and in the 1800s in England, that isn't a great combination to be. Lily's father seems like a nice man, yet he spends all his money on liquor and fails at every endeavor he embarks on because of this vice. When Lily's uncle ships her off to Wyoming to live on her father's big ranch, she finds that not much has changed--her father is the same as ever...and has lost the ranch. The life that Lily builds that winter really tells of her character. She's used to feeling inferior and works hard anyway.
Lily is such a great character! I love how she doesn't let prejudices get her down. She finds that the ragtag ranch people are made up of all kinds--from mixed races to good ole Southern boys to Indians to uppity women who look down on everyone. Lily makes the best of her situation and pulls her resources together to make things work. I love the way the characters rely on one another and use their strengths to overcome trials.
Of course, Jack is awesome. Right away, he admires Lily's tea/coffee colored skin and accepts her for who she is, really focusing on the beautiful parts to her--her voice, her kindness, her soul. He's a great advocate for Lily and her father.
The way the characters learned to pull together and the way the story gently progressed were my favorite parts. Nothing is glossed over--the details are real. I love a good, clean romance, but romance wasn't the main focus--and I still really appreciated the story.
Content: Clean!
About the Author: