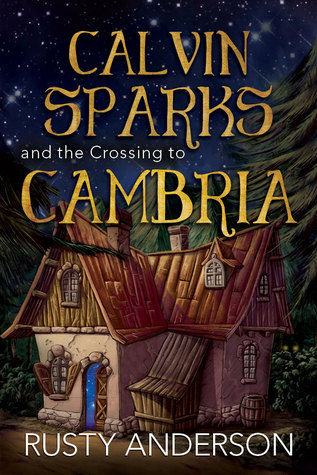 Calvin Sparks and the Crossing to Cambria
by Rusty Anderson
Published November 11th 2014 by Cedar Fort, Inc.
Source: I received a copy from the publisher in exchange for an honest review
Description:
"I told you," said Perry. "I told you we'd find it." Calvin smiled and shook his head at Perry.
"You were right, Calvin," Anna said, standing in awe. "You were absolutely right."

For years, Calvin's grandfather has told him stories about a cabin deep in the woods that holds an amazing secret. Then one day Calvin and his two best friends find the cabin. Inside they discover more than just the world's coolest clubhouse. This is The Crossing—a magical portal that takes them to another world.

Soon all three are in Cambria, a fantastic world filled with bizarre people, wonderful food, real magic, and even dragons! There Calvin learns that his family has a secret history and he's swept up in the same dangerous mission that got his father killed thirteen years ago.

Can Calvin, Anna, and Perry stand up to the evil sorcerer Galigore and his grotesque minions? Or is Calvin doomed to follow in his father's footsteps? This epic adventure story is perfect for kids and parents alike. Full of action, adventure, mystery, and magic, it's an entertaining read that will keep you guessing.
My Review:
My kids are HUGE Harry Potter fans and are really obsessed right now. When I started this book, that's immediately who I thought of--Harry Potter. There are a lot of similarities, but there are some differences that make it fun and

unique.
First, we have Calvin, a boy who discovers that he has some magical powers, which was previously unknown to him. Next, we have his two best friends--one boy and one girl. Anna was adopted as a baby, is very smart, and also discovers that she has a talent for casting spells. Perry is more of a bumbling type of boy. And finally, these three discover a secret land, Cambria, hidden in the woods near their homes, where they go to train and develop their powers, while encountering many secrets, evil, and more than they bargained for.
I enjoyed the characters and the relationships they had with one another. They got along well and were very supportive of one another, yet it didn't come off as being too perfect or forced. The adventure was done in a good way, too. There weren't too many details given, so the reader never felt bogged down, as sometimes happens in a book where an alternate world is introduced, but the setting was described in a way that I never felt lost. Events occurred at a good pace--they weren't over too quickly, nor were they dragged out. I feel like that's an important balance for younger readers.
It was fun and the ending leaves things open for more. Any fan of fantasy, especially Harry Potter, is sure to enjoy this one.
About the Author:
Rusty discovered his passion for writing at an early age. When he was in the fourth grade he was given an assignment to write, illustrate, and bind a book. He liked it so much, he wrote three––most of which were pretty awful. One of those books, however, received accolades at a district writing competition.
Originally from California, Rusty is no stranger to apple boxes and packaging tape. He attended three different middle schools and two different high schools between California and Utah. He lived in Guatemala, learned to speak Spanish, and eventually made his way back to Utah, where he graduated from the University of Utah. Rusty was the editor of a monthly Utah newspaper and currently pays the bills doing graphic design and marketing.
On the weekends, Rusty stays up late playing games and watching movies with his family. He and his wife, Jayne, reside in the beautiful mountains in Heber Valley with their six children.