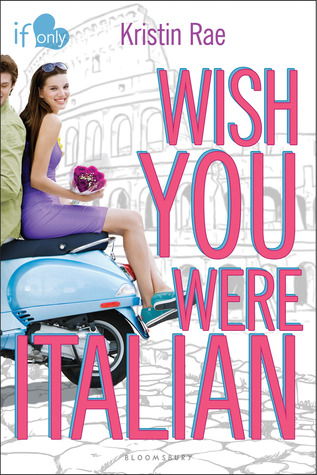 Wish You Were Italian: An If Only novel (If Only . . . Book 2)
by Kristin Rae
Published May 6th 2014 by Bloomsbury
Source: Library

Description: Pippa has always wanted to go to Italy … but not by herself. And certainly not to sit in art school the entire summer learning about dead guys' paintings. When she steps off the plane in Rome, she realizes that traveling solo gives her the freedom to do whatever she wants. So it's arrivederci, boring art program and ciao, hot Italian guys!

Charming, daring, and romantic, Bruno is just the Italian Pippa's looking for—except she keeps running into cute American archeology student Darren everywhere she goes. Pippa may be determined to fall in love with an Italian guy … but the electricity she feels with Darren says her heart might have other plans. Can Pippa figure out her feelings before her parents discover she left the program and—even worse—she loses her chance at love?

My Review: I love the first line of the blurb--Pippa has always wanted to go to Italy...but not by herself. Well, by herself is exactly what she got. I was amazed that Pippa's parents would sent her there by herself--she is only seventeen, after all. I barely send my sixteen year old to the store by himself, let alone halfway across the world. Anyway...Pippa isn't too excited about going, since she almost feels forced into it. Her best friend is determined to help her make the best of it by giving her a journal with some goals to fulfill.

I was impressed with Pippa's maturity in letting someone know exactly where she was and what was going on, since she decided to ditch the art program and go after the summer of her dreams. This experience is a growing experience for her--she learns a lot about herself, about the world around her, and about how what you really want might not really be what you want when it comes down to it.
I loved Pippa. She is brave, determined, and is easy to get along with. She feels deeply and throws herself wholeheartedly into life. Bruno is very charismatic with a bad boy vibe. It's hard not to like him even when he's unlikeable. Darren, the American, is real and down to earth. He seems to be a little hesitant, yet very spontaneous.
I really enjoyed all of the characters, misunderstandings, adventure, setting, and relationships. Fun, cute story!

Content: Clean romance (kissing, mild innuendo); very mild language; mild violence (non-descriptive fight).