On Tour with
Prism Book Tours
.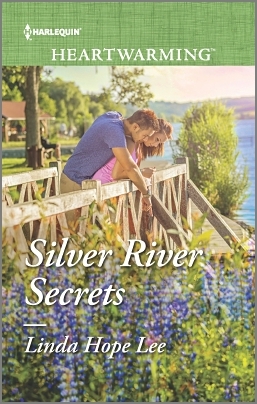 Silver River Secrets
by Linda Hope Lee
Adult Contemporary Romance
Mass Market Paperback & ebook, 384 pages
December 1st 2016 by Harlequin Heartwarming
Tragedy made them strangers. The truth could change that…
Lacey Morgan's grandmother is the only reason she has to ever set foot in Silver River. Her hometown is populated with too many ghosts and memories. Too many painful reminders. Including Rory Dalton.
In all her brief visits over the past ten years, they've barely spoken. Locked on opposite sides of the tragedy that tore their lives apart, they buried their feelings along with their parents. But this trip is different. She will stay a little longer. Dig a little deeper. And try to solve the mystery that has kept them from the truth…and each other.
Goodreads│Amazon│Barnes & Noble│Harlequin
Excerpt:
Just then, she looked up to the hilltop. Rory jumped back, hoping she hadn't spotted him. He didn't want her to think he had the slightest interest in her return to Silver River.
Sam shoved his hands into his pockets and rocked back on his heels. "Wonder how long she'll be here this time."
"She never stays more than a week. Just long enough to check on her grandmother."
"Might be longer. Remy broke her hip. She went straight from rehab to Riverview. Lacey's here to help her get settled and to clean out her old apartment."
"I heard about Remy's accident. I'm sorry she's had trouble. But how do you know so much? Or would that be violating lawyer-client confidentiality?"
Sam laughed. "Not at all. That bit of info comes from Ida Capshaw. She's our paralegal, you know, and she plays bridge with Remy."
"Ah." Rory stepped forward again in time to see Lacey's car sweep over the bridge and join the traffic on Main Street. Then a delivery truck pulled in behind her, and she was lost from his view.
He gave his head a quick shake and frowned at Sam. "Why are we standing here wasting time when there's work to be done?"
Sam's eyebrows peaked. "Because she's back?"
"So? No business of mine."
"So you keep telling me. But I have a feeling you're in for trouble, this time. Big trouble."
Linda Hope Lee
writes contemporary romance, romantic suspense, and mysteries. She enjoys traveling especially to small towns in search of story ideas. She's also an artist, specializing in watercolor, pen and ink, and colored pencil. Photography provides inspiration for both her writing and her art. She lives in the Pacific Northwest, where many of her stories are set.
Tour Giveaway
- 1 winner will receive a $50 Amazon eGift Card & copy of SILVER RIVER SECRETS by Linda Hope Lee
(print if US, ebook if international)
- 3 winners will receive a copy of SILVER RIVER SECRETS by Linda Hope Lee
(print if US, ebook if international)
- Open internationally
- Ends December 12th
a Rafflecopter giveaway