Begin Again by Crystal Walton
Kindle Edition
,
262 pages
Expected publication: February 8th 2017 by Impact Editions, LLC
What happens when a free-spirited artist from big-city New York collides with an uptight business owner from small-town Ocracoke? Fireworks. The kind neither saw coming.

A single call is all it takes to drive artist Ti Russo into what she does best. Run. But hey, lying low in a beach town for a while isn't so bad. Thanks to the distraction of playing consultant to a guy she's determined to crack, she can almost forget about the past stalking her back home. But she never counted on the real danger being a picket-fenced life she has no business falling for.

Focus and self-preservation have gotten single dad Drew Anderson through the last nine years. With the threat of his shop's foreclosure jeopardizing his daughter's health care, the last thing he needs is a distracting hippie chick swooping in to shake up what he's fought to protect. Including himself. The bank's deadline adds enough pressure without re-risking feelings better left buried.

But as sparks flare and secrets escalate, the race against time propels Ti and Drew into a choice neither's ready to make: Find the faith to surrender their past or forfeit their only chance to begin again.

Download Begin Again and escape into a sparks-flying, opposites-attract contemporary clean romance full of small-town charm, broken characters, and deep undertones of grace that'll win your heart.
*~*~*~*~*~*~*~*~*~*
My Review: 4.5 Stars

Ti is a free-spirited, hippie girl, who is new to this beach town. Sparks fly when she encounters Drew and she is determined to figure him out and get him to open up. These complex characters each have pasts to overcome and futures to discover through faith, love, and charm.

I may be in the minority here, but Ti wasn't my cup of tea at first. She's kind of brash, blunt, and almost in-your-face and that's so opposite of me. She rubbed me wrong...until I learned a good, hard lesson-- "Be kind, for everyone you meet is fighting a battle you know nothing about." And that's exactly what I learned about Ti. As pieces of her background began to emerge, I realized that I had completely misjudged her and I really grew to like and admire her.

Drew is more like me, as he holds things close to his heart and deep inside. He's a tough nut to crack, but wouldn't you know, love has a way of softening things. As Drew's past and future collide, he's forced to face things. I love it when he's not afraid to admit he's wrong and does what he can to fix things.

As for the romance, it's volatile, as an opposites-attract type of romance can be. I love the deep transformations and the way the romance fills in the cracks of these shattered characters. This story is an emotional ride and for me, there are things that are difficult to read about and imagine. The plot is well played out and I enjoyed the ride.

Content: mild romance (vague talk of prostitution, kissing); talk of drug and alcohol use/abuse; very mild violence (stalking, abuse).

*I received a copy from the author, which didn't influence my opinion at all. All thoughts are my own.*


*~*~*~*~*~*~*~*~*~*
Buy Links:
If you're a Luke Danes and Lorelai Gilmore fan, you'll love Drew and Ti's sparring relationship, along with Begin Again's small-town setting, quirky characters, and family bonds.
Categories/Themes:
Contemporary Christian Romance
Second Chance Romance
Clean Summer Romance
Small Town Romance
Beach Romance
Each book in the Home In You Series is a standalone and can be read separately. But I recommend reading the books in order if you want to follow the overall timeline:
Write Me Home – Book One
Begin Again – Book Two
About the Author: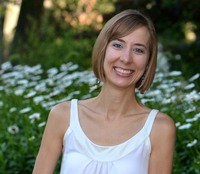 Giveaway:
Crystal Walton has an amazing giveaway associated with this release. Head over to her blog to enter to win. Click
here
to go right to it!