Welcome to our Book Blog Meme hosted by
Once a month, Author's Corner will feature either a favorite author or new to us author.
We will share the author's bio, one of our favorite books of theirs and a review.
Each of us will be featuring a different author each month,
so there will also be links to each of our posts.
We love finding and sharing amazing authors with others.
We thought this would be the perfect way to share the love,
not only with other bookworms, but with the authors that we absolutely adore!
So... without further adieu... may we present...
My choice this month is....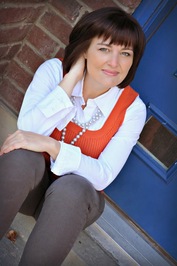 *~*~*~*~*~*~*~*~*~*~*~*~*~*~*~*~*
I discovered Jennifer Moore about three years ago and adore her stories.
She mostly writes historical/Regency fiction, but I'm
going to link my review to a contemporary story that she wrote,
Change of Heart.
She has a new release this month, Miss Whitaker Opens Her Heart.
*~*~*~*~*~*~*~*~*~*~*~*~*~*~*~*~*
Who are you favorite authors?
Check out the choices from